Mission to Motherhood | Amira Mikhail
The hope, the heartbreak and the happy ending.
By Amira Mikhail
There are thousands of us in New Zealand battling infertility, wanting desperately to become mothers, watching our friends having babies and wishing that it would happen for us. Feeling left behind, desperate and alone. We are everywhere, but we have become experts at hiding so you can't see us.
I spent the majority of my adult life, from puberty until my late 30s, battling heavy periods, endometriosis, infertility and miscarriage. But, throughout my experiences, from finding out I had severe fibroids in my early 20s, to my diagnosis of endometriosis in my early 30s, I never lost hope or sight of what became my number one goal: to have children. That's not to say that there weren't moments of intense sadness, hopelessness and despair along the way. There most definitely were. But I knew that somehow, one day, I'd hold my baby in my arms.
After my first son was born, in 2014, through a surrogate in Canada, I decided, in true Highvibe Mommy fashion, to write a book while I was on maternity leave. My writing began as a sort of therapy, allowing me to put each chapter of my journey behind me as I put it in print. But then I realized that my experiences would be valuable to other women who were dealing with similar issues. And so, Mission to Motherhood was borne. I wanted to share the experience and information that I had gained through my journey with those who still felt lost. I wanted to help those women like me, who knew that they were destined to be mothers, but were unsure of just how to get there. Above all, I wanted my story to be one of hope: a story to help even the most hopeless to feel less alone and to feel like they too can achieve their dreams of motherhood despite the odds stacked against them.
I share my roller coaster ride through rounds of IVF, the medications and treatments that I tried, both conventional and unconventional, in hopes that others might benefit from the knowledge that I gained throughout the years. I also write about the overwhelming joy I felt to discover I was pregnant. And, in heart-wrenching detail, how this joy was shattered in an instant, on the eve of the 12-week milestone. I wrote about my miscarriage to remind women who have been through a miscarriage themselves (and there are A LOT of us out there) that they are not alone. When I felt alone, stressed and afraid, hearing other women's stories pulled me through.
When I eventually recovered enough from the grief of my pregnancy loss and of being told that I should never attempt another pregnancy myself, I looked into surrogacy. When it became apparent that surrogacy might be my only remaining option for becoming a mother, I didn't know where to start. Surrogacy is not very common in New Zealand and is not independently legislated, meaning that it's not only difficult to navigate, but it's also a minefield for potential issues to arise.
We did find a surrogate in New Zealand but, after jumping through all the hoops, the whole thing fell through after the first (failed) embryo transfer. And so, I looked to my birth country for an easier way.
In Canada surrogacy is more accepted and is legislated, and it was in Canada that we found our perfect surrogate. We embarked on a beautiful partnership with our surrogate family which had a very happy ending – and bright new beginning: on August 8, 2014, I finally became a mother to Kairo. But wait, that's not the end! On December 5, 2017, we welcomed our second son, Toren, into the world through another amazing surrogate in Canada. He's now 6 months old.
We're back living in Christchurch. I want to share my story to give hope to those who are still struggling to become parents, and to share the information that I found so hard to come by on my journey.
Mission to Motherhood is also for people who have friends and relatives who have experienced, or are experiencing, the devastation of infertility – so that they might say and do the right things to support them during tough times. I hope that by continuing the dialogue, speaking with one another openly, we can break down those barriers, those taboos that have left us feeling so isolated for so long. The power of shared experience should never be underestimated.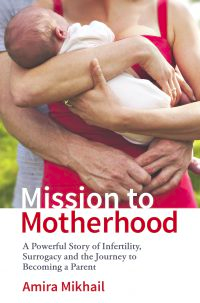 Mission to Motherhood
by Amira Mikhail
Know someone who needs to hear this inspiring message of hope? Share this article with her, now.